March Comes in Like a Lion
Dear friends of the coast,

Our staff have been busy restoring marsh, engaging the community and hosting fun events along our coast. In addition, we're proud to share that we've been making the news as you will hear in this NPR and WUNC segment on the Federation's recently completed 6,000-acre restoration project at North River Wetlands Preserve.

As spring approaches, we are ramping up living shoreline efforts and planning an incredible oyster summit scheduled for May 9-10 in Raleigh. We hope you will make plans to join us as we continue our work for a healthy coast.

– Todd Miller

Executive Director

The North Carolina Coastal Federation is teaming up with the North Carolina Division of Parks and Recreation to restore 10 acres of wetland habitat in Carolina Beach State Park. Work began in late February to restore and enhance the tidal marsh habitat between the Sugarloaf and Swamp trails within the park, beginning with the removal of the invasive plant Phragmites australis. Work will continue with targeted grading and the planting of natural marsh.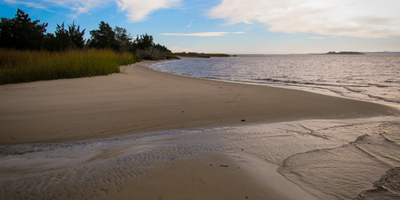 The 2022 Marine Debris Accomplishment Report has just been released showcasing the great collaborative work taking place to keep our coast debris free. The report outlines accomplishments in implementing the North Carolina Marine Debris Action Plan which provides a strategic framework for prevention and removal of marine debris along the N.C. coast. You can read the report, on our website, to see how partners are working together to remove crab pots, large-scale debris and abandoned vessels.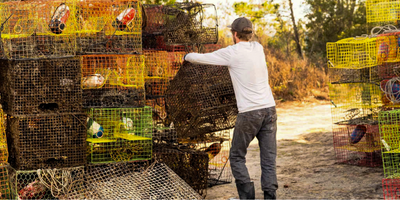 This month the Federation was honored to host students from the East Carolina University's Alternative Spring Break program. Instead of heading to sunny Florida, the group dedicated their week off from classes bagging oyster shell for restoration projects along with members of Leadership Carteret.
The students also participated in a shoreline clean up at Sugarloaf Island, and helped prepare EarthWise Farm for spring planting. Additionally, students assisted with service projects at Hammocks Beach State Park and toured the Pine Knoll Shores Aquarium. We are so thankful for their time and continued partnership, as students from this program have visited our Ocean office for the past 13 years!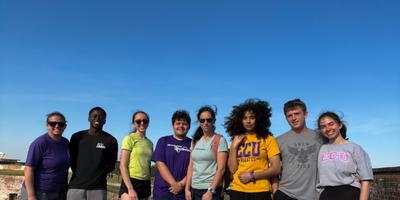 Read more about their trip, here.

Over 200 guests joined the Federation in mid-March for A Roast for the Coast at Waterman's Brewing Company in Wilmington. Participants enjoyed live music, an auction, great eats and of course lots of oysters. Event proceeds will support local oyster restoration projects, including new projects in the Lower Cape Fear River! A special thank you to Waterman's Brewing and all our event sponsors and businesses and partners who donated fantastic auction items.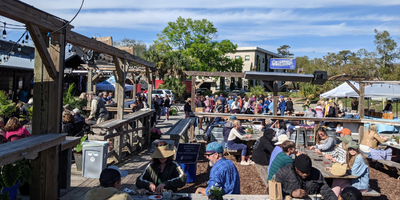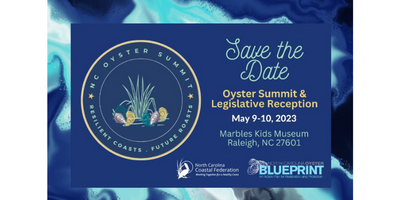 Make plans to join us for the N.C. Oyster Summit: Resilients Coasts, Future Roasts – scheduled for May 9-10, 2023 at the Marbles Kids Museum in Raleigh, NC. Visit our website, here, for more information!

This past month we were proud to see some of the work our team is doing highlighted by media outlets around the state. Here is a look at a couple: