Boatlines November 19 from MIATC, Martin County, FL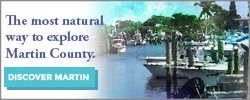 At the intersection of the Atlantic Intracoastal Waterway and the Okeechobee Waterway, Martin County, A CRUISERS NET SPONSOR, is home to Marine Industries Association of the Treasure Coast and a hub of boating activity and events of interest to boaters.
-The 67th Annual Light Tackle Sailfish Tournament

-Martin County Christmas Parade 12/5/2020

-St. Lucie County Christmas Parade 12/5/2020

-Indian River County Christmas Parade 12/12/2020

-3rd Annual Lenny Schelin Jr. Memorial Tournament To Benefit Glioblastoma Research 1/1-10/2021

Visit Website
Exhibit at the Stuart Boat Show
January 15-17, 2021
Only a few in-water slips remain
The upcoming 47th annual Stuart Boat Show is the most cost-effective boat show with more than 18,000 affluent attendees
Only $2.75 per sq ft for brokerage and
$3.75 per sq ft for new vessels!
Here are a few brokerage examples:
45′ with a 15′ beam only $1,856
60′ with a 16′ beam only $2,640
85′ with a 20′ beam only $4,675
Contact Mike Allen to Reserve Your Space
954-522-5528
Martin Clerk hosts Operation Green Light for extended period to offer relief to those with overdue court costs
What: Operation Green Light Virtual Event by Martin County Clerk of the Circuit Court – A Driver License Reinstatement Days Event.
When: November 16 – 20, 2020
Where: Virtually, Courthouse Constitutional Complex, 100 S.E. Ocean Blvd., Stuart.
Who: Individuals with a suspended driver license due to outstanding court financial obligations who want to save on fees and have their license reinstated.
The savings are significant: A speeding ticket—for going 10-15 mph over the limit—with late fees could cost you $206. By taking part in Operation Greenlight, that cost could drop by as much as 40 percent — or $82.40!
In 1992, the Clean Vessel Act was signed into law to reduce water pollution by prohibiting vessels from discharging raw sewage into fresh water or coastal saltwater. The act established a federal grant program, administered by the U.S. Fish and Wildlife Service, to fund sewage disposal facilities. To date, the federal grant program has awarded nearly $246 million to help boaters properly dispose of sewage.
In Florida, the Clean Vessel Act Grant Program is housed within the Florida Department of Environmental Protection. Since 1994, DEP has provided grants to marinas across the state to install pumpout facilities and to purchase pumpout vessels. To further improve water quality in Florida's waterways, DEP's
Clean Boater Program
also funds educational programs for boaters through the Clean Vessel Act grant.
Join a free webinar to learn about how to obtain grant funding for boater pumpouts, and boater education and outreach through the Florida Clean Vessel Act Program. This is a great workshop for marina and boatyard facility owners, operators, managers and staff. These workshops are presented by the Florida Department of Environmental Protection through its Office of Resilience and Coastal Protection's Clean Boating Programs.
Register here
for the webinar on Tuesday, Nov. 19, 2020, from 2 to 3 p.m.
Click here
for more information on the Clean Vessel Act Grant Program
Derecktor's Investment in Revitalization of Port of Fort Pierce for Megayacht Shipyard Yielding Results
Derecktor Ft. Pierce's 1,500-ton mobile boat hoist is nearing completion at Cimolai Technology in Northern Italy. The machine will soon be shipped to the Port of Fort Pierce and assembled shortly thereafter. Derecktor projects hauling operations to commence in early 2021.
FORT PIERCE, FL – Derecktor is pleased to announce significant progress and key milestones achieved in the development of its new Fort Pierce shipyard.
Despite a global pandemic and the slow pace of government permitting, Derecktor has been moving forward with the transformation of the one-hundred-year-old Port of Fort Pierce and aging Indian River Terminal into a modern facility capable of servicing the world's largest yachts. The facility, which hadn't had any major infrastructure upgrades in more than two decades, required substantial cleaning and debris removal and is being brought up to current fire and safety code. Improvements have been ongoing ahead of any technical trade work being carried out.
"The Port of Fort Pierce is the ideal location for America's next great shipyard. The Fort Pierce Inlet is the widest, deepest, and most navigable inlet between Port Canaveral and Port Everglades. Deep water access, no overhead obstructions and a generous turning basin provide ample clearance and maneuverability for the global fleet of mega-yachts and large sailing yachts," explained Justin Beard, Marketing Manager for Derecktor.
Is there anything you'd like to share with the membership? Do you want to be our next Member Spotlight?
Send us a picture and short summary and we will include it in Boatlines!