Boatlines October 15 from MIATC, Martin County, FL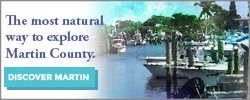 At the intersection of the Atlantic Intracoastal Waterway and the Okeechobee Waterway, Martin County, A CRUISERS NET SPONSOR, is home to Marine Industries Association of the Treasure Coast and a hub of boating activity and events of interest to boaters.
Calendar of Events

Martin County Christmas Parade 12/5/2020

St. Lucie County Christmas Parade 12/5/2020

Indian River County Christmas Parade 12/12/2020
BDBMC is Seeking Nominations for Annual Business Awards
Each year the Business Development Board of Martin County (BDBMC) celebrates businesses and individuals who have made outstanding contributions to Martin County's economy and community. This year, they will continue that tradition and are now seeking nominations. Simply complete
the nomination form
to submit your favorites by Friday, October 23, 2020.
From there, the BDBMC team will consider all nominees and announce the winners who will be recognized at the BDBMC's 2020 State of the Economy and Annual Business Awards Luncheon on Friday, December 11, 2020, 11:30 a.m. at Hutchinson Shores Resort and Spa.
Public can nominate candidates for:
· New Business (Newcomer) of the Year
· Nonprofit Business of the Year
· Small Business of the Year (fewer than 20 employees)
· Business of the Year
· Business Expansion of the Year
· Headquarters of the Year
· Entrepreneur of the Year (Individual)
· Charlene Hoag Leadership Award (Individual)
Derecktor's Investment in Revitalization of Port of Fort Pierce for Megayacht Shipyard Yielding Results
Derecktor is pleased to announce significant progress and key milestones achieved in the development of its new Fort Pierce shipyard.
Despite a global pandemic and the slow pace of government permitting, Derecktor has been moving forward with the transformation of the one-hundred-year-old Port of Fort Pierce and aging Indian River Terminal into a modern facility capable of servicing the world's largest yachts. The facility, which hadn't had any major infrastructure upgrades in more than two decades, required substantial cleaning and debris removal and is being brought up to current fire and safety code. Improvements have been ongoing ahead of any technical trade work being carried out.
"The Port of Fort Pierce is the ideal location for America's next great shipyard. The Fort Pierce Inlet is the widest, deepest, and most navigable inlet between Port Canaveral and Port Everglades. Deep water access, no overhead obstructions and a generous turning basin provide ample clearance and maneuverability for the global fleet of mega-yachts and large sailing yachts," explained Justin Beard, Marketing Manager for Derecktor.
Is there anything you'd like to share with the membership? Do you want to be our next Member Spotlight?
Send us a picture and short summary and we will include it in Boatlines!