Boatlines September 14 from MIATC, Martin County, FL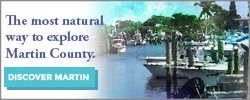 At the intersection of the Atlantic Intracoastal Waterway and the Okeechobee Waterway, Martin County, A CRUISERS NET SPONSOR, is home to Marine Industries Association of the Treasure Coast and a hub of boating activity and events of interest to boaters.
Missed the Marine Industries Roundtable Meeting?
You can now watch On-Demand.
ABYC Standards Certification- Interactive Online
The ABYC Standards Certification course provides a comprehensive and focused look at the key ABYC Standards. Course discussions address specific compliance issues relevant to engineers, installers, compliance inspectors, and marine surveyors.
Sept 15 – 17 (3 days for 1 week, 3pm – 4:30pm EDT each day)
Vote Stuart for the Great Places in Florida Award
Is there anything you'd like to share with the membership?
Send us a picture and short summary of an event or article and we will include it in Boatlines!